Equity on Ice
In 2018, we embarked on an initiative to bring equity to TRIA Rink and Treasure Island Center. Our goal from the start was to ensure all kids in Saint Paul who want to skate have the opportunity do so at TRIA Rink, despite the financial barriers all too often associated with hockey and figure skating.

We determined the best way to approach this goal was to connect with nonprofit organizations already making an impact in this space. Ideal organizations included those with a strong affinity to the ice, a commitment to social equity, educational excellence and/or the successful development of Saint Paul's youth. 

The four organizations we connected with in 2018 include Brownbody, DinoMights, Friends of Saint Paul Hockey and the Saint Paul Police Athletic League. Our goal is to provide these organizations with office space at Treasure Island Center, where they can grow their roots in the city of Saint Paul. In addition, we are focused on helping these organizations secure funds to reserve ice time at TRIA Rink.

Ice time is managed by the Minnesota Wild. All Equity on Ice initiatives, including fundraising events, are managed through Capital City Properties, the not-for-profit arm of the Saint Paul Port Authority.
Equity on Ice Center
In 2018, we made the decision to create the Equity on Ice Center on Level Two at Treasure Island Center. Within this space all participating nonprofit organizations will have access to one private office. Shared spaces include a large multi-purpose room that will be available for mentoring, tutoring and board meetings; a smaller conference room; two bathrooms; and kitchen nook.
A floorplan and architectural renderings were created pro-bono by the Collaborative Design Group. When the Equity on Ice Center opens in 2019, rent will be waived. Nonprofit organizations will only be responsible for their fair share of common area maintenance costs.
The Equity on Ice Center would not be possible with financial support of the following organizations: Saint Paul Foundation, F.R. Bigelow Foundation, McKnight Foundation, District Energy, and Opus Foundation.
Equity on Ice Fundraising Event
In 2018, we hosted two fundraising events at TRIA Rink, through Capital City Properties, in support of the Equity on Ice initiative. The first event was in February and the second in November. Each session raised approximately $30,000 for a total of $60,000. Most funds were directed to the build-out of the Equity on Ice but each organization did receive an allowance for ice time. Our goal is to hold a similar event once per year going forward, with the goal of raising funds for ice time.
The Equity on Ice fundraising events would not have been successful without our sponsors, including: Accumark, Inc., Aero Service Group, Albrecht Signs, BMO Harris Bank, Braun Intertec, Candyland, Clean Channel Outdoors, Ecolab, Hy-Vee, Kendall's Ace Hardware, LHB, Loffler, Louck's, Mall of America, Osborn 370, Pace Loan Group, Palace Theatre, Pipefitters/Steamfitters, Plumbers Local 34, RJM Construction, Sage Glass, Saint Paul Buildings and Trades, Saint Paul Hotel, Stacked Deck Brewing, Stinson Leonard Street LLP, Stoel Rives, Tim Hortons, Treasure Island Resort & Casino, U.S. Bank, and Xcel Energy.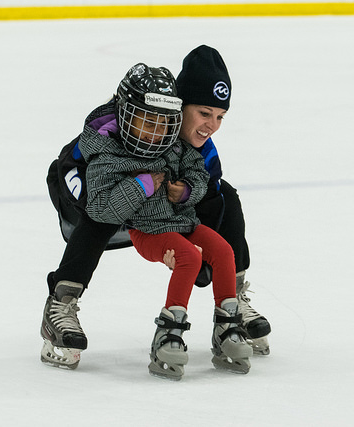 Partner Spotlight: DinoMights
DinoMights provides whole-life youth development that encompasses hockey, academic support, community service, and mentorship. They have a proven program in south Minneapolis and are bringing this same level of success to Saint Paul. They officially launched their Saint Paul chapter in January 2018, and we are glad they chose TRIA Rink as their new home.
Learn more about the program from Scott Harman, executive director.
Partner Spotlight: Brownbody
In 2018, we appreciated the opportunity to learn more about Brownbody and how they can bring an artistic flair to TRIA Rink. Brownbody is a nonprofit performing arts company that fuses modern dance, theater, social justice and figure skating as a way to tell honest and nuanced narratives around blackness.
Learn more about Brownbody from its founder, Deneane Richburg.