New Partners at Treasure Island Center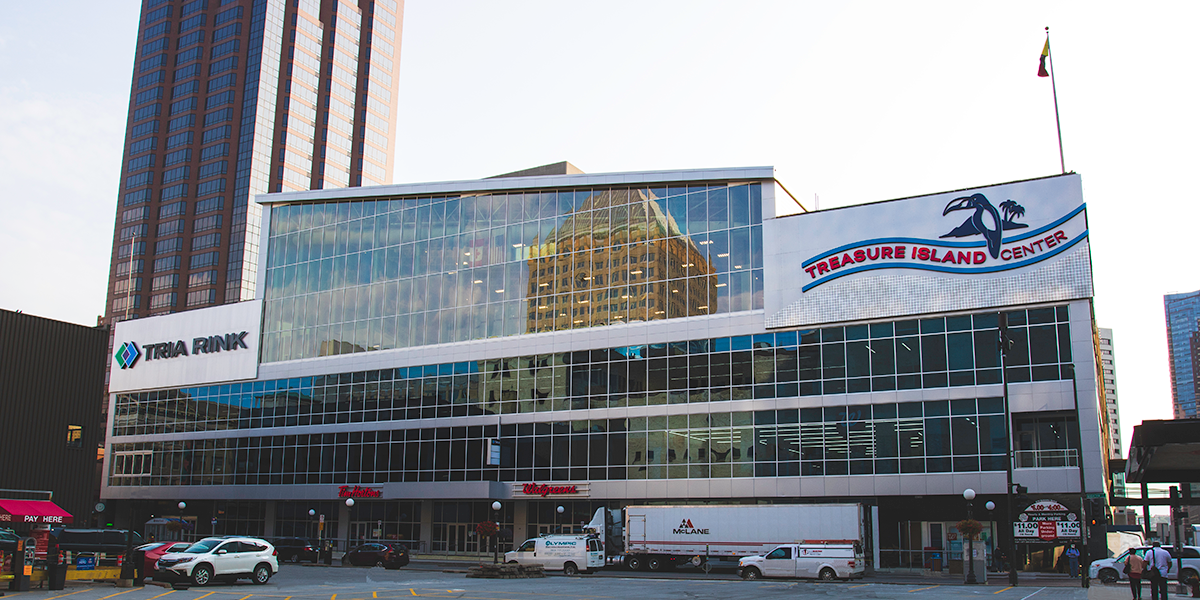 Treasure Island Center Officially Opens
Treasure Island Center was a five-year project that reached completion in 2018. This unique redevelopment saw the transformation of a 1960s era department store into a modern, mixed-use facility. Floor-to-ceiling windows replaced a full-brick front, offering sweeping views of Wabasha Street and parts of the downtown skyline.
Tenants include: Minnesota Housing, Minnesota Wild, Stacked Deck Brewing, Tim Hortons, Treasure Island Resort and Casino, TRIA Orthopedic Clinic, and Walgreens.
TRIA Rink Grand Opening
In 2018, TRIA Rink became the bustling hub in the heart of downtown Saint Paul that we knew it could be. We saw a wide range of activity on the ice, including Minnesota Wild practices and home games for both the Hamline Pipers (men and women) and Minnesota Whitecaps. When the home teams weren't on the ice, TRIA Rink was host to numerous games, tournaments, camps, and clinics.
Partner Spotlight: Minnesota Wild
As the most high-profile tenant in the building, the Minnesota Wild's involvement generated the buzz and excitement needed to make Treasure Island Center the success it is today. Hear from Jamie Spencer, Minnesota Wild executive vice president, on how our organizations worked closely together to better business in the heart of downtown Saint Paul.
Partner Spotlight: Hamline Pipers
In 2018, the Hamline Pipers men's and women's hockey programs made TRIA Rink their new home. Hear from Jason Verdugo, athletic director and Natalie Darwitz, head women's hockey coach on how TRIA Rink fit their needs and positioned them to win more games.
Featured Tenant: Stacked Deck Brewing
Stacked Deck Brewing Company opened its doors in December 2018. Its founders, Andy Erickson, Ryan Keihn, Brad Randall and Scott Wege are Saint Paul natives and offer a wide range of beer selections including Pocket Aces, Ante Up Amarillo and Right Said Red. The 3,000+ sq. ft. taproom is located on the street level off of Cedar Street and features live streaming from TRIA Rink during Hamline Pipers and Minnesota Whitecaps hockey games.
World's Largest Hockey Mural
While we didn't get official recognition from the Guinness Book of World Records, we firmly believe the mural we commissioned for the outside of Treasure Island Center is the largest hockey mural in the world. It measures 300 feet in length and reflects what we expect to see inside the building: An ever-changing face of hockey that better represents the entire community. The original was created by local artist Terrence Fogarty.